Do we have a say in the itinerary?
At Archipel we do not have a fixed itinerary, to the contrary we try to input personal parameters for each individual group. Hence, on first day, together with your captain with the week's windforecast in hand, you will select the most suitable set of stopovers. The ideal strategy for a week's sailing tour is to reach the most distant point on the third day.
What is the Meltemi?
The Meltemi is a northerly wind blowing in the Cyclades islands in July and August creating exhilarating conditions for sailing. This famed north wind brings clear air, welcome cooling during the furnace of summer and it can make a well-handled sailing boat fly like an arrow. The Meltemi does not blow every day, you may also experience calm days, but in general its intensity increases during the hot hours of the day typically reaching 6 or 7 in Beaufort scale and cuts down at night. This is one of the reasons yacht charters like to start the days' cruise in the mornings, in order to avoid the winds before it begins. In June and September the Meltemi is isually weaker.
What happens if the wind blows hard?
Our yachts provide safety and comfort to everyone onboard. Because our captains daily monitor long term forecasts, they can anticipate a blow and tailor your itinerary according to your preferences. So no need to worry!
What happens if there's no wind?
When this happens, diesel engines take over, itineraries are less constrained, there is less sailing but more relaxing, swimming and snorkeling.
If we are looking for warmth and not so windy, would you recommend the Dodecanese or the Cyclades islands?
Both the Dodecanese and the Cyclades are beautiful areas to sail and both can be stifling hot when there's no wind, and cool (about 24°C) when the wind settles in. Actually the Dodecanese can be potentially even hotter because of the proximity of the Turkish mainland which heats up pretty quickly in the day time (max 33°C) and cools off fast at night (min 17 C). On the other hand the Cyclades benefit from the stabilizing effect of the sea providing less extreme temperatures (night average minimum 19°C and day average maximum 25°C).
The great bonus of the Cyclades is that there's always an interesting itinerary for sailing whatever the conditions, even if its quite windy its possible to have a reasonably settled trip by picking the right series of islands and our captains are quite expert at customizing itineraries to our guests preferences. This is a little bit more difficult to achieve in the Dodecanese, since the islands are layed out in a North-South pattern which restricts your choice.
Being on a sailboat it's always nice and exciting to have a breeze to propel the boat from one island to the other!
What is the likelihood of rough water?
The Aegean Sea is a fairly "closed sea" and ground swells are seldom witnessed. They may occur during winter Southwesterly gales when these blow from North Africa over a large expanse of water.
Otherwise and particularly from May to September inclusive, Northerlies predominate. These blow over short stretches of water between the islands generating at worst a steep chop.
Since you do suffer from motion sickness, you probably know that it is generated not only by motion but also aggravated by a series of other factors like cold, anxiety, bad smells, stodgy foods and claustrophobia. One thing to avoid is to sit indoors, read or drink liquids containing milk. The best thing to do is to sit outside in the fresh air and watch the horizon. If you steer the boat it's even better because you actually busy yourself with the horizon.
Since your body needs about 24 hours to "register" even the gentlest lull of a boat at anchor, we can only recommend taking an over the counter anti sea sickness medicine on the first day, one hour prior boarding. The fact that you will be sleeping at night on the boat will only accelerate your acclimatization and on the second day you will hardly feel the symptoms.
Can we charter your sailboats without skipper?
We charter our yachts only with a skipper. It is not a matter of not trusting an expert sailor, its rather about having an excellent local knowledge and a perfect working knowledge of our boats. Quite a few of our patrons, who are expert sailors and while doing the sailing and navigating themselves, actually enjoy very much having someone taking care of the operation and maintenance of the boat's systems (which can be quite a hassle) as well as advising them about the best itinerary and anchorages (for the given weather), let alone worrying about a sudden weather change or some or novices dragging their anchor at night towards you!
Do we tip the captain?
Tips are compulsory. They are a sign of appreciation towards your crew if you're very pleased with them. Tips typically range from 150 euro per crew member.
Should we bring the kids?
During summer holidays many of our customers are families with kids. All our boats as well as our skippers are well atuned to that. Furthemore our captains know how to adapt itineraries to familie's requirements so that everyone enjoys their vacation onboard and get the most from the Greek islands! Find out more in our Family Sailing section.
Can we help sail the yacht?
Of course, help as much as you want, or as little as you desire. Only when docking at least one person ought to be willing to help the skipper. Feel free to ask why the skipper is doing something, or what the sailing terminology means. If you happen to be at the helm and your captain says it is time to tack or change course, it could be because there's a nasty little rock or reef in the way and you probably really should follow that advice.
In fully crewed charters, what exactly does the APA stand for?
The APA (Advance Provisioning Allowance) is the standard arrangement for paying all expenses during your yacht charter. The APA covers fuel, port fees, food & drinks as well as any special requests on your behalf. The captain should keep any receipts necessary, as record for you, and keep you updated as the charter progresses of how much is being spent. Any credit that remains at the end of your charter will be reimbursed to you in full in cash. Typically the total amount of APA estimated in advance of your charter is 20-25% of the total charter fee for a sailing yacht.
How does the catering onboard charters with a cook work?
The catering onboard fully crewed charters works as following: we send you a food preference sheet to complete so your cook can shop accordingly. Your dietary needs and allergy info are of course duly recorded and passed on to your crew so to make sure that all meals are prepared accordingly. Regarding expenses as a whole (food, drinks, fuel and port dues), you may settle either them in cash directly to your crew or you may wire an Advance Provisioning Allowance (APA) of 20% of the charter fee. Should you have spent less, the balance shall be reimbursed in cash at the end of your cruise.
One question that came up in discussions about the trip is about replacement boat in an event of a break down. How do you manage a situation like this when for some reason the boat we rented cannot continue in case of break down?
Our yachts are outfitted with state of the art equipment, maintained at the best of our ability. However, apart from safety gear, sails or main engines, none of the equipment is considered essential and a temporary failure does not warrant a refund. Should the improbable happen and your yacht be immobilized, we will refund you for the number of days remaining, or as an alternative, we offer to charter a replacement yacht (depending on availabilities), for the same value as the refunded amount.
Where can I book a ferry ticket?
Beware of foreign agencies with inflated prices! Here is a reliable web site where you may book online your tickets for the Greek islands at the same fare as locals. Both available: tickets retrieval (free at the port) and by mail (at your charge).
Should we book our ferry tickets in advance ?
It is wise to book your ferry tickets in advance if you are travelling in the Greek islands between June and September.
I can't find the ferry schedules. What is the typical timetable for Paros?
Spring and summer schedules are published usually as soon as December. Typically the Blue Star ferry runs all year round and sails twice a day to Paros, at 07:30 and at 17:30. Trip duration: 3:45. More ferries are scheduled during the highseason bewteen June and September.
We have a ferry arriving in Paros at 11:40. However boarding time on the yacht is 11:00. Is this a problem?
Not at all. Just let us know in advance your arrival time in Paros and we will advice your captain.

GOOD TO KNOW
: in Paros the yacht harbour is in Paroikia main settlement, only 300 yards away from the ferry dock and 15' by cab from the airport.
How to get to Piraeus from El. Venizelos airport?
By bus, subway and taxi.
- By direct shuttle: bus X96, one way fare: 6 Euros. Bus stop is located between exit 4 and 5 on ground arrival floor. Departures every 30-40 minutes. The service runs 24/24. The travel duration is approximately 60 minutes.
- By subway: one way fare 8 Euros. First change at Doukissa Plakentias then take Monastiraki direction. At Monastiraki station change direction Piraeus, get out at terminal station Piraeus. Cross the foot bridge for the Cyclades ferry dock.
- By taxi: about 50 Euros, day time fare.
How to get to Rafina port from El. Venizelos airport?
Rafina, the closest port from the airport, is accessible by taxi (20 minutes ride, about 35 Euros) or by bus (the bus departs from the bus stop between the Exits 2 and 3 of the arrivals hall (opposite hotel Sofitel). Ticket price: 4,00 Euros. Your can buy your tickets from the bus driver when you get in the bus. Children under 6 years travel free.
How much time is available for exploring Greek islands?
Unless you are a group of sailing buffs, we always make sure to combine all the pleasures associated with cruising the Greek islands. Of course there shall be sailing (between 2 and 4 hours per day), but also time for swimming in small cove and usually also an entire afternoon for either lounging or exploring ashore. Once the boat safely moored for the night, your captain shall give you directions and information regarding the various things to do or visit on each given island. Because on some Greek islands places of interest are located on the hills, we organize taxis, rental cars or just get the local bus schedules. In other places you shall be told where the pretty hiking trails are. Once the starlit night has set in, we all meet in a small taverna which we patronize for its authentic fare, local produce and good value.
What would be a typical day on a sailboat?
Our experienced skippers will be happy to suggest ideas and destinations learned from many years experience in the Greek seas, highlighting secluded coves and beaches as well as places of interest that are often only accessible by boat. Your sailing cruise will combine pleasant sailing in the morning with the afternoon visit of a different island every day. After waking up, if at anchor, you may take a swim or if in harbor have breakfast first and then go for a walk and enjoy the sights under the golden morning light. Once the boat cleared and ready for sail, the anchor will be weighed and course shaped for the next island. After a few hours sailing, if a suitable cove is available, you may stop for a swim and lunch or otherwise keep sailing and have lunch on the move. In the smallest of islands there's always something interesting to see or a nice walk to take. Of course you may decide to lay back and relax on the boat or just stroll to the nearby beach. In each anchorage your captain will be happy to indicate the best taverna to sample genuine Greek food and sample unique fare, typical of every island. After dinner you are free to pick your spot and enjoy the Aegean's wonderful starlit nights.
How do I figure cruise costs and expenses?
Cruise expenses will vary depending on the sailboat you charter as well as on your itinerary. To get a better idea please refer to each specific boat's page on this website where we indicate estimated cruises expenses per week.
Do we go into marinas at night?
Depending on the route, preferences and possibilities you will have, during your cruise, the opportunity to anchor in a cove or moor in a port. Do not hesitate to indicate your preferences to your skipper when you finalize your itinerary.
Docking offers the advantage to move freely on and off the boat, even late at night. Bear in mind that Cycladic ports are usually a small pier next to a peaceful village, and that it is quite possible to avoid busy places if you so wish.
Spending the evening in an anchorage is ideal for enjoying perfect tranquility and starry evenings on deck, then wake up in the morning in a world of light and peacefulness, surrounded by crystal clear waters.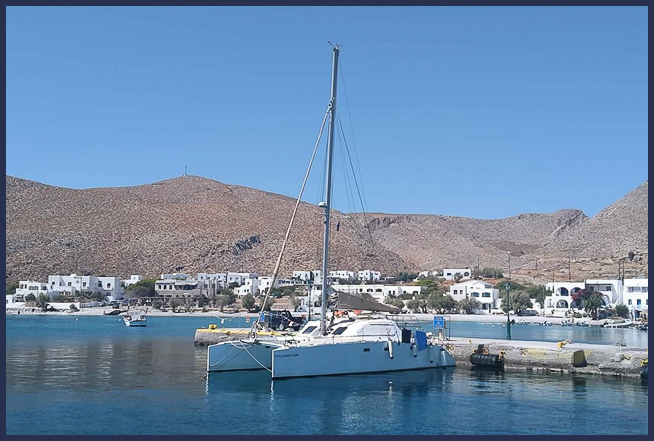 Docking in peaceful Folegandros island, September 2019.

How to provision the yacht out of Paros?
Shopping is typically carried out in Paros on day 1, as it is cheaper and offering a greater variety than in the other islands. Grocery, bakery, veggie store and bottle shop are all conveniently located close to the pier, the various store owners usually providing staff to deliver your shopping cart to the boat.
Can we resupply food in any island?
Except in the smallest Greek islands, it is no problem to resupply in fresh products. Your captain can help you with advance planning regarding food shopping.
Is drinkable water provided on the boat, or are we required to buy bottled water?
Tank water on board is perfectly safe for galley and bathroom use but we would recommend the use of bottled water for drinking or tea making. 6 packs bottles can be purchased, for less than 2 €, at the nearest store prior departure. When provisionning, you may anticipate consumption of one bottle per day per person on board. Such bottles stored in the yachts' refrigerators are a convenient source of cold water!
How do meals work with the skipper?
Life on a sailboat implies good will and team spirit. you captain will never impose himself but when lunches are taken on board he should get his share. If not busy with the boat he will be happy to give you a hand in preparing the meal. Regarding dinners ashore, your captain will advise you about the best taverna in each island you will visit. You do not have invite him at your table but please remember you still have to provide for his dinner. You can either give him 14 euros for his dinner or make sure there is enough food onboard so he can prepare himself a nourishing meal.
Dinner in or out?
We believe taverna dinners are part of the Greek lifestyle experience. Having dinner ashore is about exploring the richness and splendor of Greek food in a relaxed atmosphere. Your captain will be more than happy to introduce you to the unique food specialities of each Greek island you will visit. There is always a vegetarian option available too. Of course you may cook onboard if you prefer, the galley of all our yachts are fully equiped.
Do you carry snorkeling gear onboard?
Yes, we do carry flippers of various sizes onboard all our yachts. Should you do not find anything able to find the right match, you may easily purchase fins and snorkel masks ashore at a reasonable price.
Is bed linen provided?
Yes we provide with all bed linen as well as bathroom towels. You just need to bring with your own beach/deck towel (except on luxury crewed yachts).
Any suggestions for special items to bring?
There is no special item to bring except a waterproof jacket for the eventuality of sea spray, a sweatshirt in case of windy evening and a beach/deck towel (on most our charter yachts we provide with bathroom towels only). If you use all the boat's cabins please do prefer soft carry-alls as only hard suitcases would be impossible to stow.
What is the laundry situation while on the boat?
Because of limited water supplies you cannot wash to many clothes at the same time on the boat however there are laundries in all the major islands. Weather being warm and very dry, clothes dry in an hour's time.
Are there electrical plugs on the boat? Are the adaptors typical for Europe?
On board all our yachts you will find 220v AC plugs running on a 1800w inverter. That means it's the same as in our homes but not for very powerful devices. You may hook up all your electric small devices up to 1500w such as phones, cameras etc. Please bear in mind that the sockets are of the "continental" type (ie France, Germany).
Can I bring my hair dryer?
Except on luxury sailboats like our Lagoon 500 catamaran where all cabins are equiped with hair dryer we recommend you bring your own but please bear in mind that the large amount of AC current needed to power the device is only available when the AC generator is running. For smaller devices there's constantly power available. Sockets are of continental Europe type.
Is there a first aid kit onboard?
Yes. A first aid kit is mandatory onboard all charter yachts in Greece.
Which sailboat is right for me, monohull or catamaran?
Here are some clues to help you make your choice:




At equal size chartering a catamaran is often more expensive than a sailboat, construction and operating costs of catamarans being higher.
Catamarans have more deck space than sailboats and their facilities are reminiscent of our homes: ideal for families! However attractive, performance of many production multihulls do not equal those of traditional sailboats.
It is easier to find a slip to dock a sailboat than a catamaran and to be docked is so convenient for getting on and off board at will. At anchor a catamaran's deck space is however an undeniable asset particularly if the yacht is crowded.
If you are seasickness prone, remember that it is the size and seaworthiness of the boat that make the difference, not the fact that it is a sailboat or catamaran. Li>
Still not sure? Study the boats' characteristics and the facilities on offer: how many head/showers? What are the water tanks size? Can the boat produce fresh water on board or not? Does it carry an inverter? Fans? The larger your party, the more the boat will have to be self-sufficient in water and electricity.