Family Sailing Holidays with Teenagers
Sailing the Greek islands with teens.

The crew: 1 skipper, 1 mum, 5 teens
Type of cruise: private yacht charter
Yacht: Sun Odyssey 52
Departed: Paros, July 4, 2014
Returned: Paros, July 10, 2014
Weather: 29 degrees, fair, northerly wind 10-15 knots.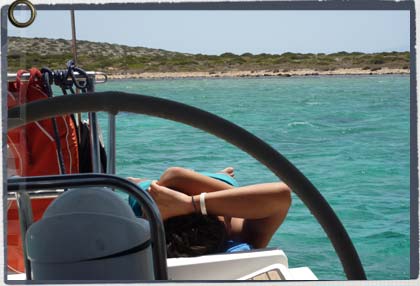 DAY 1: Paros
We arrive in Paros on one of the windiest days so far this summer in the Aegean. Hardly any sailboats are at sea, and Paroikia harbor is jammed with yachts seeking a safe haven. My kids (Alexander, Philip, and Melina) and I have sailed the Greek islands numerous times, and but this time the kids have brought two friends along, Akis and Dinos, none of whom had previous experience of a sailing holiday. How will this go, and what if the strong winds continue all week?
We spend the afternoon provisioning in addition to the groceries pre-ordered, and stroll the pretty streets of Paroikia. We have a nice dinner in the harbor, and the kids (2 of which actively play football) spend most of the evening watching the Mondial at one of the cafes, and then go off clubbing. I remain on board the lovely Andromeda, waiting for their return, and watch the waves crash over the pier…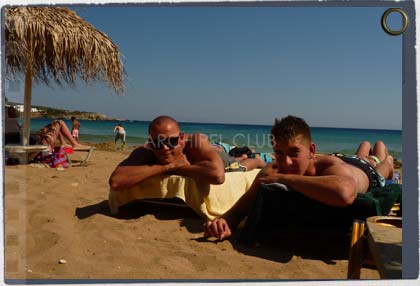 Lasy day on the beach in Paros.
DAY 2: still in Paros
I wake up early. The orchestra of ropes and wires hitting the masts is music to my ears, but I quickly realize it is still too windy to leave Paros, and Hector (our skipper) of course agrees. I rent a minibus and we drive off to explore the island. We spend a lazy day on the south coast at a pretty beach of Farangas, and have a superb lunch at IMF (Incredible Mediterranean Food). In the afternoon we drive up to beautiful Naoussa for sightseeing and dinner at an authentic gyros-shop recommended by Vanessa at Archipel. Back at Paroikia in the evening we watch more Mondial… In general, a wonderful, relaxing day.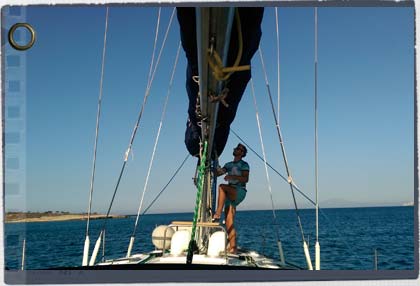 DAY 3: Paros - Koufonissia
Finally off! Our destination today is Koufonissia! We see dolphins on our way, and have really nice sailing conditions. The wind has calmed down, the kids "learn the ropes" from Hector, take their turn at the helm, and after approx. 1 ½ hour we stop for lunch and swimming in the stunning bay of Panteronissi off the western coast of Paros. During lunch we are entertained by 2 very good kiters sailing right next to us. The kids, one by one, fall asleep in their spacious and comfortable cabins, and only wake up as we approach Koufonissia in the early evening. I have been recommended the famous Captain Nikolas taverna by a friend, so we walk off in search of it. It turns out to be a 15 minute walk from the harbor, and along the way we pass a couple of striking tiny coves with sandy beaches, and also get a glimpse of the island. Our seafood dinner is fabulous and well worth the wait as the restaurant is full! As soon as we return to Andromeda, we all head off to bed. Interesting how sleepy one can become from doing "nothing". The spirit of holidays is beginning.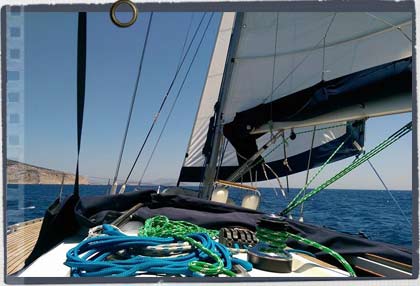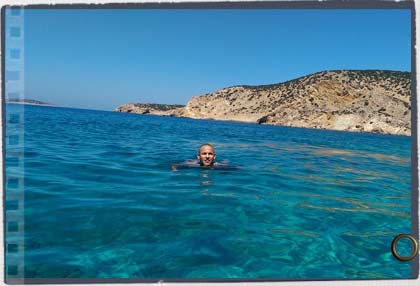 DAY 4: Koufonissia - Amorgos
We get up relatively early, the kids slightly protesting, but the forecast predicts strong winds, so our amiable and knowledgeable skipper Hector and I want an early start. We head off to "lower Koufonissi" for brunch and swimming before setting course to Amorgos, slightly apprehensive regarding the weather.
It turns out we have a fantastic sailing experience!
Westerly winds bring the yacht up to 11,5 knots, and we are all ecstatic watching the speed. Andromeda behaves flawlessly, sailing gracefully and comfortably. Feeling perfectly safe we cherish every moment of the 3 hour trip. We arrive at this impressive, mountainous island, and it's pretty harbor of Katapola in the early afternoon, and we all do our own thing" for a couple of hours before taking a taxi up to Chora. Arriving Chora at sunset will remain unforgettable for all of us. We walk all the streets of the charming village, soak up the views, and end up having a delicious dinner at a tiny restaurant serving local meze. After that, we find Callisto Café for coffee and cakes, recommended by friends. By 11 pm. we are all peacefully rocked to sleep by the swell of the sea, the whisper of the waves, and the song of the wind.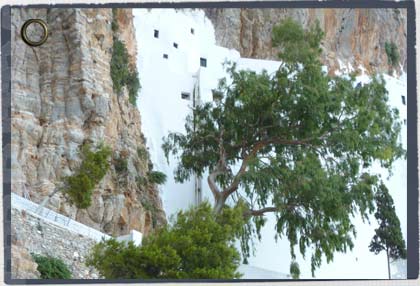 The remarkable monastery of Hozoviotissa in Amorgos.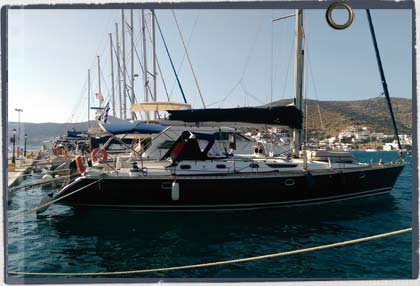 Our lovely yacht, a Sun Odyssey 52 in perfect condition.
DAY 5: Amorgos
In (still) strong westerly winds, we leave Amorgos before noon, but after an hour, a joint decision is made to return to Amorgos. Actually, all of us are very happy about this as we want to see more of this incredible island. We rent two cars, and drive all the way up to Aegiali for lunch. The scenery is stunning, the views breathtaking!



On our way back we stop for swimming at the picture-perfect bay of Agios Pavlos and then continue to at the remarkable monastery of Hozoviotissa. All of us are in awe of this blessed setting, and the monks are all so nice and welcoming, offering us a tour of the premises, raki, water, and loukoumi (Turkish delights).



We spend the evening back in Katapola, have a light dinner, and the kids find a café for more Mondial watching. I prefer a quiet time on the spacious deck observing the local atmosphere of the harbor, but end up having an interesting conversation with the owners of the yacht next to us (sailmakers from Australia) who have been sailing around the world for the past 7 years!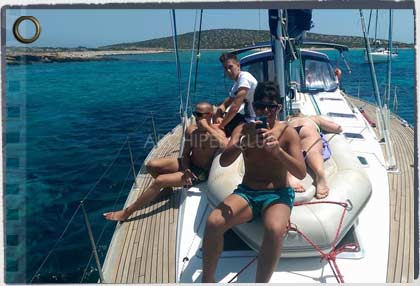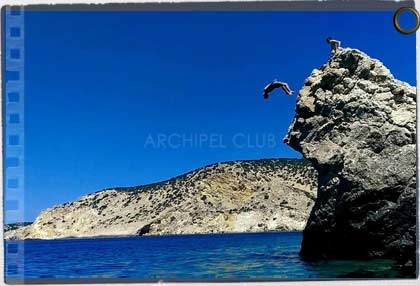 Jumping off the rocks.
Day 6: Amorgos - Skinoussa
Skinoussa has been on our list of islands to visit, and we are so happy we didn't skip a visit to this tiny, picturesque island. On our way over, we stop at yet another amazing bay between 2 small islets, Kato Antikeri and Ano Antikeri, for swimming and lunch.

A word on cooking/lunch on board
: Andromeda's galley is very well equipped, and I have found everything I could possible need regarding utensils and crockery available. We are all foodies, so lunch has also been important to us, and I have cooked as easily as if I was in my own kitchen.



After lunch Alex, Philip, and Akis take the dinghy out and head off to the cliffs with Hector for jumping off the rocks; another highlight of our trip so far! Philip has great fun filming the acrobatic jumps with his GoPro. Dinos, Melina, and I snorkel in crystal clear water off to a deserted beach where we gather exquisite and rare shells. Upon arriving at Skinoussa, we walk up to the scenic Chora for sightseeing and dinner. Another highlight of our trip, Deli Restaurant & Bar has amazing food; thank you Hector for bringing us here!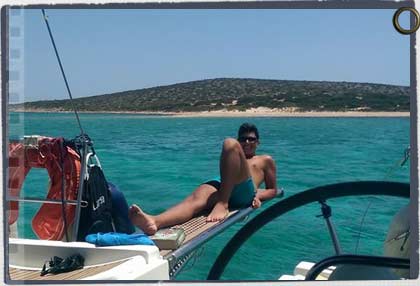 Lunch time & relaxing onboard.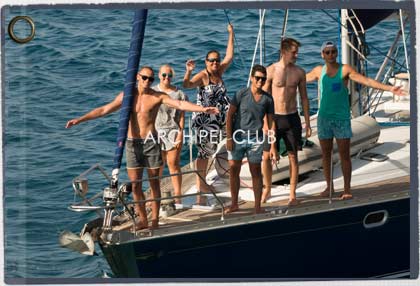 Thank you Archipel, thank you Hector, thank you Greece!
Day 7: Skinoussa back to Paros
Our last day at sea; a long and lazy day with little wind brings us to another beautiful bay at the islet of Fira between Paros and Antiparos for lunch and swimming. We spend as much time as possible in the water, soak up the last rays of sun, and return to Paros. A perfect day to end a perfect week.



We've had a brilliant holiday and I know we'll all miss these amazing islands until next time. Thank you Archipel, thank you Hector, thank you Greece.



Alexandra, July 2014.
Over 50 years experience in crewed yacht charter in Greece
A friendly and expert team by your side until your disembarkation
Permanent skippers
for constant boat maintenance
Credit card
secure payment