TRAVELLERS SAILING STORIES IN GREECE
A family sailing holidays

Crew: 2 parents, 2 children, 1 skipper
Cruise type: skippered charter
Yacht: Oceanis 40
Started: Paros (Cyclades), July 19th 2013
Returned: Paros (Cyclades), July 25 th 2013
Weather: 28 degrees Celsius, cloudless, wind northerly 20 knots.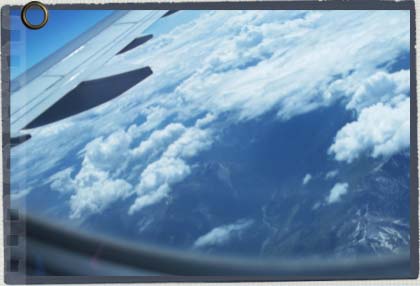 My parents, Alain and Florence, decided to go to Greece this summer. We will visit the Greek islands, but not quite like everyone else since we will travel by sailing boat. And to top it all there will be with us on board my classmate Matthis who's already in Greece. We are on the plane to Athens. The adventure begins.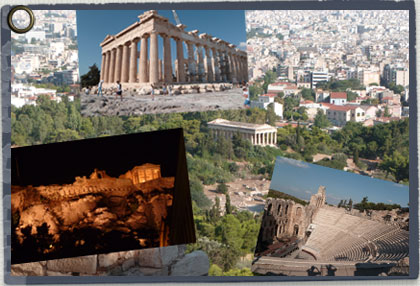 I follow my parents to the mandatory visits of the Acropolis and the lively Plaka district. The center of Athens is full of hotels, stalls, tavernas and souvlaki. It's hot and I can not believe it can get that different as pictured on a postcard with a snow covered orange tree.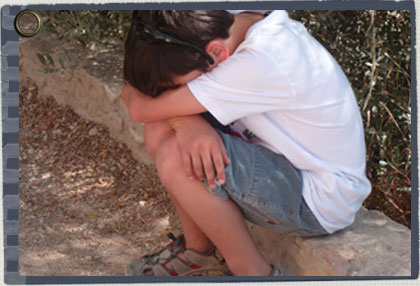 I can not stand walking any more. One day in Athens is enough, please!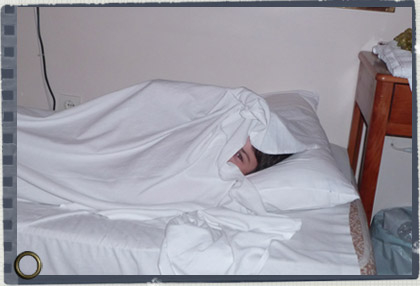 Nap at our hotel, Nefeli. This is a simple little hotel, well placed near Plaka and close to the main metro stations.
That's it, I'm on the subway en route to the port of Piraeus! It takes half hour from the center of Athens. It is 07:20 am. We board Blue Star for Paros where our sailboat and my friend Matthis are expecting us. The crossing is cheered up by Goodies breaks (McDonald's Greek equivalent) and deck walks.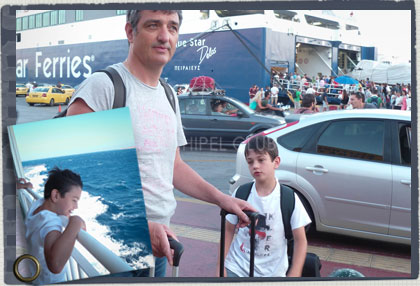 The further one moves away from Athens the less the maritime traffic. The sea is a beautiful deep blue. At 11:30 am we arrive at Parikia, Paros' capital. It's a little scramble to exit the ferry but dad saves the day by finding a garage backdoor exit.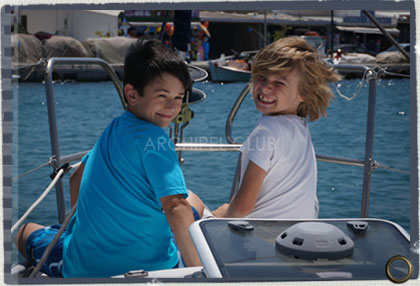 DAY 1: Paros- Naxos
Once ashore, we walk 300 meters to reach Parikia sailboat harbour. Along the way, I see Matthis who rushes to meet us; it's a lightning reunion :-) Archipel team greets us and leads us to the chartered boat: an Oceanis 40. We board with Matthis and investigate a cabin. We need a little time to get used to the fact that an engine can hide in a closet or toilets operate with a pump! While we investigate, the skipper outlines for my parents our itinerary and life onboard the boat. Cyclades map in hand, he explains the route options depending on the weather. Once our itinerary has been established, we all have a bite at the nearby Marina Café before weighing anchor so as not to leave on an empty stomach. It seems that it's going to be rough!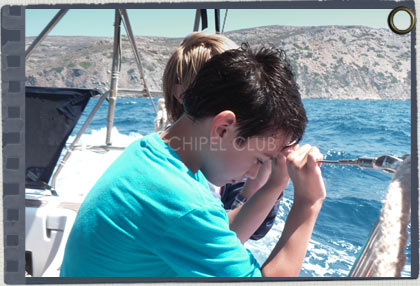 First passage. It is 2:30 pm when we weigh anchor. There's a lot of wind, force 6 the adults' say, the sea is rough and my pride is gone. Almost instantly Matthis becomes all green. Fortunately the difficult leg lasts only twenty minutes , then it all gets better.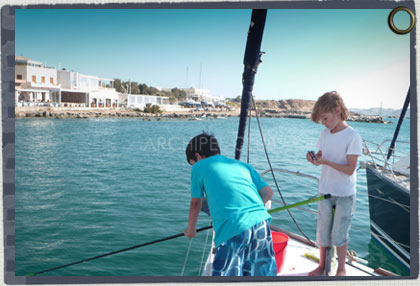 We arrive at 5:20 pm at Naxos, docking at the port of Chora, the island's capital. Ho! Fishing rods are unpacked and the lines launched.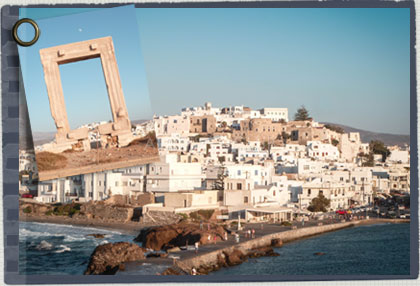 Late afternoon stroll in Naxos town. We visit the portico to the Temple of Apollo. Harbor and Old Town are very commercial: tavernas , shops and bars. It is crowded, but not as bad as the Riviera.We sleep like logs during our first night on board! Matthis and I in one double cabin, my parents in another and the skipper in a third at the front of the boat. There are a total of two bathrooms on board and a deck shower with hot and cold water.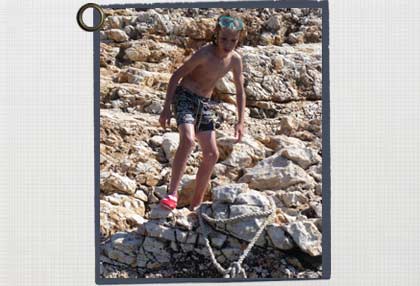 DAY 2 : Naxos-Naxos (Kalando)
As soon as we wake up, its breakfast on board followed by departure. Heading south we enjoy the pleasant sailing and the calm sea. After an hour, we pause for a swim and lunch in the deserted cove of Roga. Matthis jumps overboard to fasten a mooring line ashore, he ties a bowline around a rock. The boat stands still between its anchor and the shore.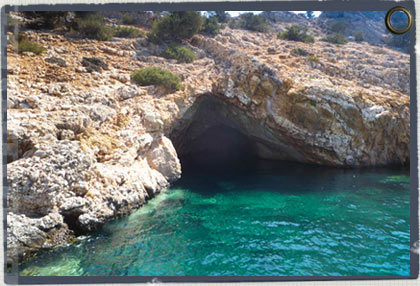 Our skipper shows us a partly submerged cave. Our bodies appear luminescent and our voices resonate, so funny.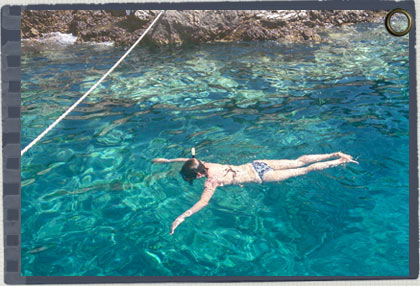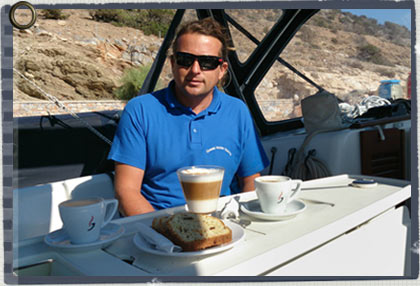 Here's Antonis, our skipper. He's very nice and knows all the great places! Mom and Dad seem to like his coffee a lot.
We communicate with him in English... well, we manage :-) Matthis who has lived here a few years, speaks Greek.
While sailing, the cockpit table folds out to accommodate everyone.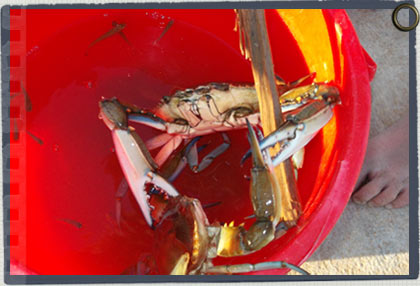 At 3 pm, we set sail — destination: Kalando to the south of Naxos. We moor at a small dock in a large cove which is particularly isolated, because of its difficult road access. There are no other boats other than ours. On the hill, goats come in our direction. But time is running fast,; we grab our buckets and our sticks,; it seems that there are large crabs here!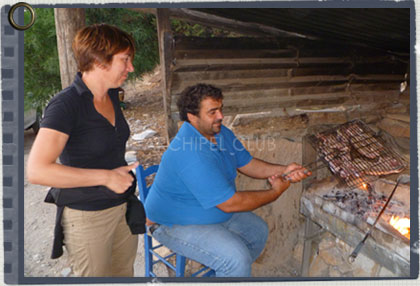 In the evening, rather than dinner on board (there are no tavernas around), our skipper offers to take us to a barbecue at a rancher's on the hill.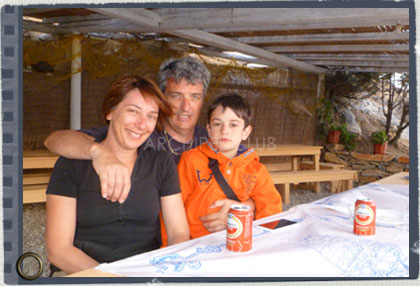 Around some rustic tables set for visiting sailboats, we enjoy lamb chops and fries. Sprinkled with fresh lemon juice, this is a treat! We end the beautiful evening aboard the sailboat under a star studded sky. Once in bed, we can't sleep at first, as small waves slap under the transom.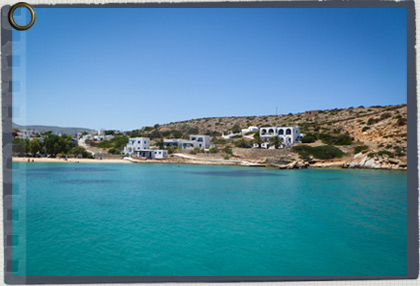 DAY 3 : Naxos-Iraklia
After a good breakfast prepared by the parents, our skipper announces the imminent departure. Putting away everything that's loose on board, checking that all portholes are shut and expecting his orders (although it is he who does almost everything on board!). Carefree navigation for almost 2 hours and here we are, in a nice little harbor in a quiet bay. We see a large sandy beach nearby.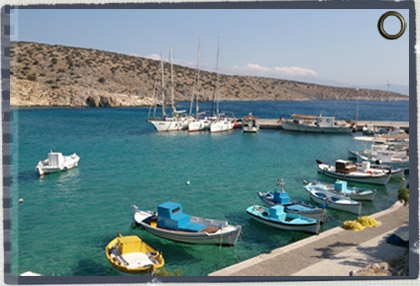 This last leg over, we dock at our usual slip in Parikia. This tiny marina (by international standards) suddenly appears gigantic to the the Small Cyclades harbours! Since its only 3 PM we decide to take a stroll ashore. The picture shows the mom and pop grocery in Kostos, where the owner happily recalls the sixties, when electricity was not available in these mountain villages.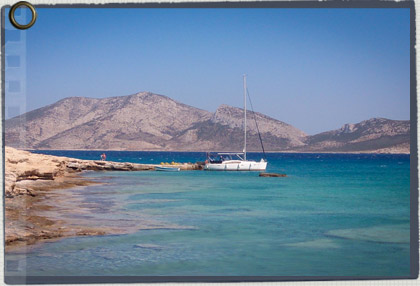 DAY 4: Iraklia - Koufonissi
Early morning start and early ultra easy sailing, or is it perhaps that we now have grown our sea legs? We pass north of Skinoussa island. Suddenly you feel the wind breezing up. In no time it has reached force 6. Our skipper, who had anticipated, it seems, is already heading for a sheltered cove.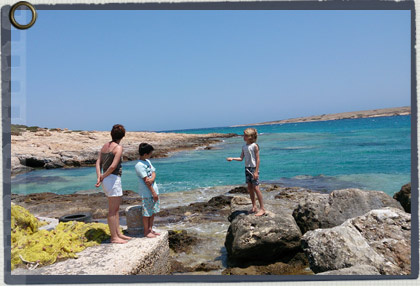 This beautiful place is our paradise.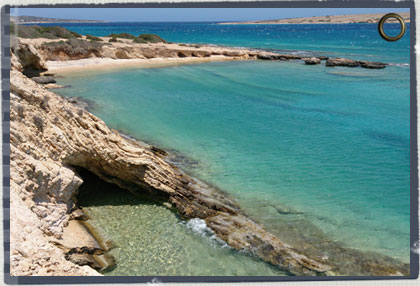 A paradise just for ourselves.
Today, we have lunch in a small tavern and we feast on a goat casserole cooked with tomatoes along with some mezze. We begin to understand that in Greece one does not order just one personal dish but a multitude of different small dishes to share. Here, we directly chose our dishes in the kitchen. Matthis' favorite is grilled octopus.
Lunch is followed by a walking tour to a nearby creek.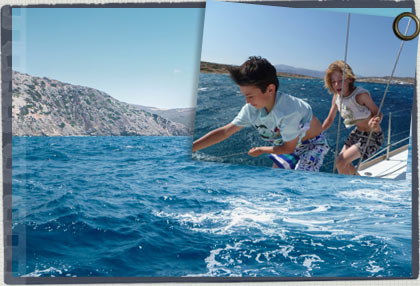 In the afternoon we leave and motor to Pano Koufonissi (Northern Koufonissi). It's so windy that we cannot hear each other talking! We nest in the cockpit at the back of the boat.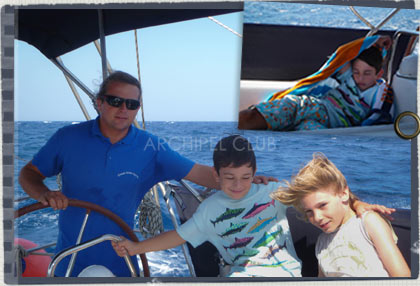 Antonis is at the helm. The boat heels. I doze off.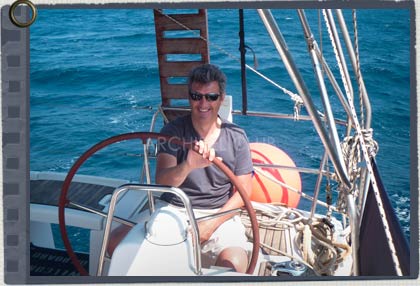 When I wake up, it's dad who is at the helm, calm has returned. We moor at the little port and everyone goes about his business. In the evening we will eat a pita in the white back streets of Koufonissi.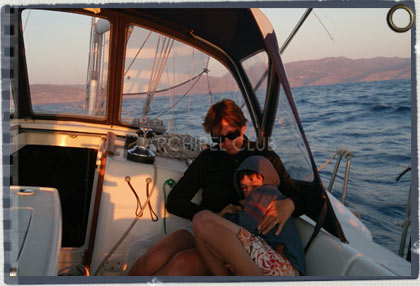 DAY 5 : Koufonissi-Amorgos
The wind still blowing strong this morning, we spend part of the day walking around and swimming at Koufonissi. It was not until 5 pm that we weighed anchor, our skipper judging conditions suitable. The islands are gradually tinged with pink. I snuggled against mother.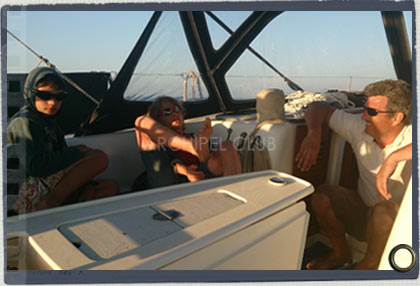 Near Keros, the sea is rough, however we enjoy a beautiful sail. The whole trip lasts 3 hours. At 9:00 p.m. we reach Katapola in Amorgos , the easternmost island of the Cyclades. Our skipper manages to finds a place and docks as it is easier for coming and going on the boat. We dine at the tavern Xilokeratidi. A nearby café shows the Great Blue on loop and in all languages (the beautiful scenes from the beginning of the movie were filmed here).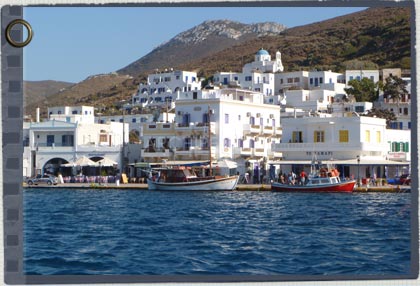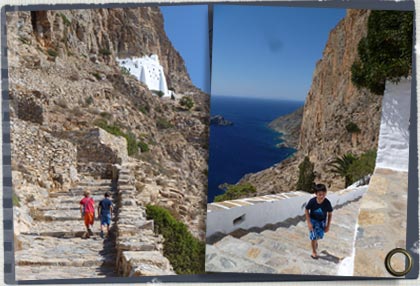 Our skipper takes us to a car rental - its funny with him it seems everything works like magic - and we wish farewell. Towards the famous Byzantine monastery of Panagia Chozoviotissa. To get there, we must climb an endless staircase of hot cobblestones. For once we remain silent. Adults chuckle gently.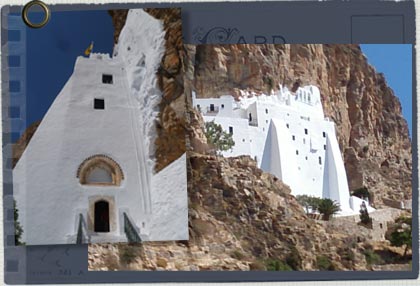 Erected in the eleventh century, the monastery was built on a cliff 300 meters above sea level. Taking pictures is prohibited inside.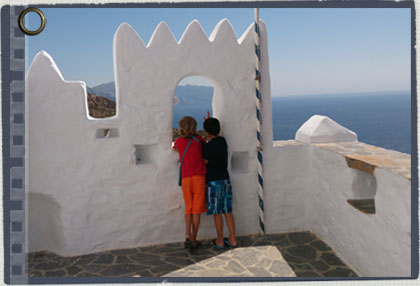 Wow ... the view is gorgeous.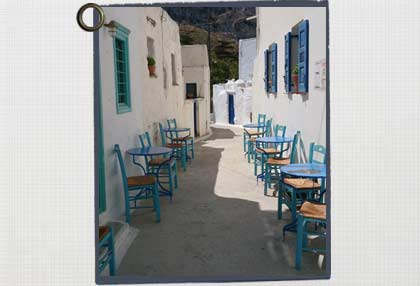 Later in the morning we visit the village of Langada at the north of the island, located about 23 km from Katapola where we left our sailboat.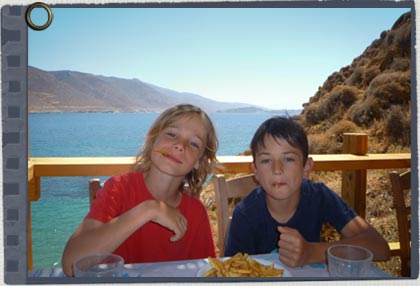 2 pm already. We are hungry. We head for nearby Aigiali.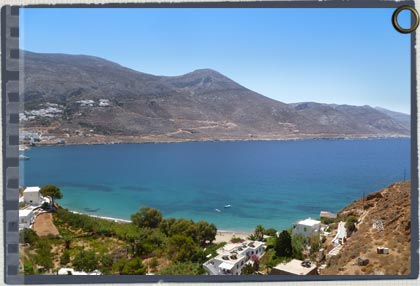 Swimming in Aigiali bay then back to the boat.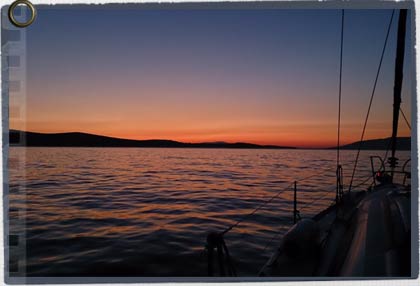 It is 5 pm, we weighed anchor and set course for Iraklia , 4 hours sailing from here. We are immersed in a magical twilight universe. Quiet night in Iraklia port.
DAY 7 : Iraklia-Blue Lagoon-Paros
When the sea is calm, we kids, we like to disappear into our cabin. Or move to the front of the boat. We also spotted a sea turtle but had no time to photograph.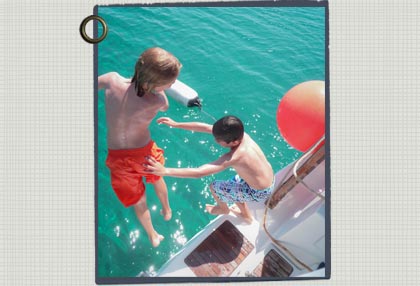 Our skipper invites us to stop for a swim at "Blue Lagoon", a place near Antiparos and great diving spot. We all have a bite in the cockpit under the bimini's shade, then everyone relaxes.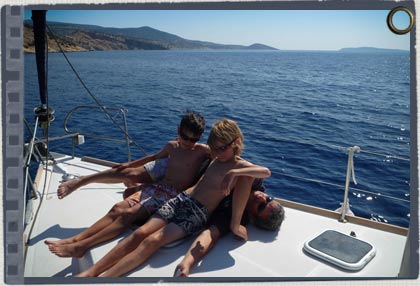 The relaxation continues even when our cruise is resumed. Calm seas and refreshing light winds.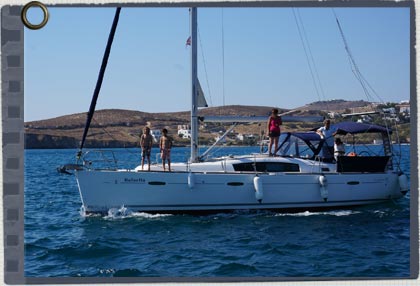 Back at the base in Paros. the Archipel team and Matthis' parents are on the dock, a real welcome committee!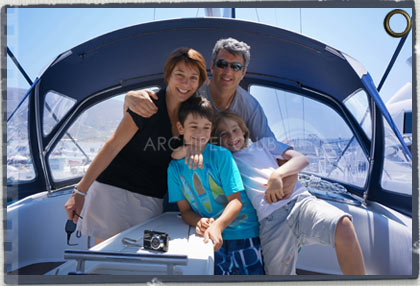 Our sailing cruise in the Cyclades ends here. We had an unforgettable holiday! Thank you Antonis, coolest of captains, thank you Mum and Dad for taking us along, Matthis and me, in this adventure.
Adrian.
July 2013.
What we liked
- Exploration: we have been fortunate to discover the both beautiful and preserved Cycladic islands in such an original fashion, by sailboat.
- Sailing: the skipper's kindness, discretion and professionalism as well as his advice on shore activities that made this week perfect.
In one word: exceptional holiday, well organized, with a special taste for off the beaten track.



What we didn't like
Carefully and objectively there is not much to regret about. Perhaps the surf on the second night, an unusual condition which made falling asleep difficult.
Over 50 years experience in crewed yacht charter in Greece
A friendly and expert team by your side until your disembarkation
Permanent skippers
for constant boat maintenance
Credit card
secure payment